Tonight the lovely Jennie at Edspire kicks off the first in her Messy play for Matilda Mae linky. This is one linky that many of us have been looking forward to so much! Jennie has inspired many of us to get dirty with our kids, to embrace the mess and watch their creativity and confidence grow. Sales of the Tuff Spot (concrete mixing tray) have gone through the roof no doubt and this can only mean one thing: Matilda Mae's legacy is going to be huge!
On this day 9 weeks ago, a beautiful baby girl was taken from her parents as she slept. On Sunday it will mark one month since I sat in a little church and watched those parents say goodbye. I witnessed raw emotions that day, and was party to them myself too. The overriding emotion of the day was clear: love. Jennie and David love their children so much; anyone can see that the happiness of their children is the most important thing in the world to them.
And while Jennie and I have some grand plans to one day open a dramatic forest school (her words, not mine!) for now, we are building a legacy for a special little girl. She was taken too soon. Before she had chance to show the world just how amazing she was. Instead, we are learning this through her mother.
If you're planning on joining in with Messy play for Matilda Mae, I thought it would be helpful to put together some of the activities myself and Jennie have been doing, to help and inspire you. First, I'd like you to read about the Tuff Spot: a little bit of the legacy of Matilda Mae. Next, try some of these ideas: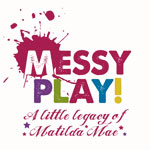 If you have some wonderful messy play ideas- whether it is something new or a post you've already written- or if these posts have inspired you, then please link up tonight! Follow @edspire so that you don't miss the grand linky opening! Come and make some magical moments through messy play!