Today's 365 has been taken from one of our painting sessions today. I have discovered that the baby has a real love of painting and she seems to be holding and controlling her brush really well! I am linking today's 365 to The Boy and Me, and to our Messy Play for Matilda Mae post too.

We've had a farm week this week and the Tuff Spot has been set up with different farm scenes every day, in between other activities. The preschooler has really enjoyed this and it's been lovely seeing his interest sustained over the week too. Earlier this week I posted about the chocolate scented soil we made for the Farmworld, and the added texture we created the next day with small pasta, dried peas and lentils. We've since added two more different materials to the Tuff spot to change the state of play even further.
First we used oats and oatbran to create a dusty horse shed type landscape.
This was a fantastic material to use and I found that the preschooler (and the baby!) was keen to get stuck in straight away! We talked about:
the texture of the oats and bran- it was dry, crumbly and rough
the food that horses eat and that we all need food to keep our bodies full of energy
The preschooler loved using this material in his imaginative play and he and the baby were quite happy to sit and play together for quite a while. To extend the play I decided to make the two gated ring fences into one larger ring fence, and we played a memory game.
We started with just three animals and I asked the preschooler to close his eyes while I removed one animal. He guessed first time! Each time I extended the game by adding another animal and each time he spotted the 'hiding' animal first time!
Next, unprompted, the preschooler asked to write his name! He made really good attempts and we discovered that oats and oatbran are excellent materials for mark making!
Alongisde the Tuff spot farmworld activities, we have been reading books, singing songs and painting. First, with the help of @minty_b's daughter, we made a pig in mud:
Minty drew the pig for us and the children helped to mix up some pink paint

we chose our tools- paint brushes and a sponge for added textures
We then experimented with making the 'mud' splash:
we mixed some brown paint with water to make it a little thinner

we used drinking straws to blow the mud, until…
the children decided to pour the bowl of brown paint directly onto the pig!
we then used paper towels to mop up the mud, which actually made a really nice effect!
We have also finished painting our goat, sheep and cow, using bubble wrap, foam painting and foot print painting!

The other material that we used in the Tuff Spot was REAL mud! We re-enacted the Stuck in the Mud story once more and then moved on to another activity, which I will blog about next week.
I'm linking up to Jennie's Messy Play for Matilda Mae. I have a feeling she would have loved all the painting we've done this week, and I KNOW she would have loved the farm play. Please pop over and read the other fantastic messy play posts- just click the badge below!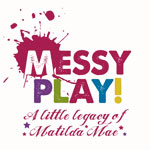 pssst! I am jumping from a plane in July to raise money for The Lullaby Trust. Please sponsor me! You can also grab our nifty badge here: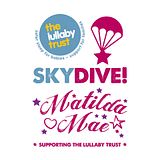 SUPPORT OUR CRAZINESS

GRAB THE CODE!