As usual, I have combined today's post with the two linkys I take part in weekly (they're both on the same day!) so first of all, here is my 365:
I took the little ones to throw stones in the river after our messy play this afternoon. It was so lovely to spend time just pottering and watching the pre-schooler be a happy child. I really like this picture!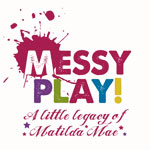 And on to the messy play! As always, I am linking this up to the lovely Jennie's linky over at Edspire. I cannot believe that it has been 11 weeks since her beautiful daughter went to sleep and did not wake up. I am so happy to say that Jennie is a very good friend of mine but so so sad that our friendship has been born out of such tragic despair. Please please pop over and take a look at the other entries. Jennie and I are very passionate about messy play and it is fantastic to see so many others writing about it too! This week, we painted with alien slime!
So, I wanted to do something a little different within our space week and I decided to have a scan of the creative area in our playroom. I have all kinds stored in there and it was the soap flakes that caught my eye. With a bit of experimentation, we created alien slime! Here's how to do it:
It's that easy. Soap flakes, flour, hot water and paint. You can use food colouring but I found the colour a little insipid and since I wanted to paint with it too, I thought paint was a much better choice. It really gave the mixture a vibrant colour! We had fun mixing it together and after we poured it into containers (good old party cups again!) we rinsed the bowl under the tap and discovered that the purple bubbly water so too much fun to rinse away! So the little ones indulged in some purple bubbly water play while I tidied up.
Once outside with Tuff spot at the ready, the pre-schooler was keen to get started and spent some time experimenting with different tools. I purposefully left a selection for him to choose from- brushes, sponges, sticks etc- because I knew (no matter how much encouragement I gave him!) he was unlikely to delve in with his hands and so a range of tools was necessary for him to make decisions over his play.
The pre-schooler did experiment with mixing colours, transferring alien slime paint from the pots to the paper and swirling the colours together. The alien slime itself is a very interesting material. The soap flakes give it a very slimy texture and if you don't use hot water it can be very lumpy too, which adds to the sensory experience. With the flour to thicken the mixture and the paint to colour it, alien slime is a delight for the senses.
you can smell it- ok, so the soap flakes smelled disgusting (!) but at least is has a frangrance!
you can touch it- the first colour we made was really thick. As we added more paint, it became thinner and gave it a different texture so each paint pot was a sensory experience
you can see it- the paint really gives it a vibrant colour which makes it visually pleasing.
you can hear it- whilst mixing we talked about the sound of the bubbles popping.
I should add a disclaimer here and tell you that the pre-schooler did not really enjoy the alien slime as I hoped he would. He is still very reluctant to get his hands messy and although I am working on this, I did not want to push him. But if your child does like getting messy, I thoroughly recommend this activity! Our painting dried really quickly and looks a lot like puffy painting. All in all, this is a really good sensory art activity for kids who love getting messy!