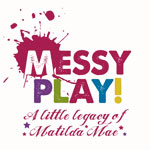 Today we went old style in the Tuff Spot. Shaving foam is one of the best known and most used sensory materials and yet one that we don't actually play with on its own that much. We mix it, we paint with it and we add things to it. We don't really play with it as it is. Until today. It's not overrated. It's over looked.
I decided to leave a variety of tools with the shaving foam, intended to give the preschooler something to use if he didn't want to get his hands messy, but also to make different patterns with. We chose a couple of wallpapering brushes and a squeegy with a brush on one side.
The two little ones wasted no time in stripping off and getting right into the tray today and the preschooler did not mind one bit about the foam touching his fingers. In fact, he relished the sensory experience today. He made sweeping patterns with his hands, he drew  shapes in the foam, and he really enjoyed using the brushes to make patterns. He loved the way the foam felt under his fingers and the baby had a ball covering her body with it too. She even had a go at covering her brother with the foam too!
Of course, the shaving foam was a perfect opportunity for some letters and sounds work. What isn't? We've been using a Jolly Phonics kit recently (review to come soon) and we love it- so much so that we tend to listen to the CD as we play. The preschooler loves the short songs and loves making the sounds of the letters and me? I love that he loves it. It's fantastic and I will be sharing it with you soon! Today we used the Jolly Phonics CD to help us with mark making. As each song announced a sound, I drew the letter in the foam and the preschooler told me it's name. He needed help with a few. We're working on s.a.t.p.i.n at the moment and he's doing so well! He also had a really good go- unprompted- at writing his name, proving that shaving foam is an ideal material for mark making!
And of course, the shaving foam made for some fantastic messy play too. That's what it's all about after all!
As ever, I am linking this post to Jennie's Messy Play for Matilda Mae. I would also like to take this opportunity to remind you of our Mile in Memory of Matilda Mae and of our Matilda Mae Memorial Auction. Oh, and there is also the Team Matilda Mae Skydive. PLEASE show your support in any way that you can.