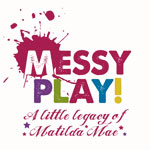 All week, the preschooler has had a hankering for doughnuts. Each morning he has been solemnly telling me that he is off to the doughnut shop and each night at bedtime, he has been telling me how much fun it was. I don't know where this obsession has come from, but the boy really wants some doughnuts it seems! Yesterday he wasn't feeling well and didn't want to stay at preschool, so he came home with me and the baby and promptly fell asleep on the sofa. And guess what his first request was when he woke up? Doughnuts!
So we made a Sticky Doughnut Factory.
We decided upon chocolate playdough and I used this recipe from Jennie's blog. The only problem was that I had no salt (I guessed this wouldn't matter, as we could just get rid of it once we'd finished playing, I'm pretty sure that the salt is a preserver more than anything else?) and I may have used too much oil… our playdough was very  sticky! BUT it smelled delicious and was just perfect for our doughnut factory!
To prepare the factory, I:
covered the Tuff Spot with icing sugar, baker's glitter and some home made sugar glitter that we made a while ago, using this recipe.
I plopped the sticky chocolate playdough in the middle of it all
I added some tools- a rolling pin, a wooden presser (?!), some cutters
I used the icing sugar to write "Doughnut Factory" – after the preschooler had told me the initial sounds of the words, of course
Then the preschooler surprised me by telling me that the doughnuts cost 4p each, so we wrote the price in the icing sugar too!
Then we were ready to make our doughnuts! The sticky dough was so soft and sticky that we needed to keep rolling it in the icing sugar so that we could pick it up and shape it. The preschooler really spent a long time shaping, rolling and pressing his dough. He discovered that the best way to make them was to make a ball, then use the pastry presser to make a hole. Then he carefully picked his creation up and made the hole wider with his fingers.
We made big  doughnuts and small doughnuts, and kept going until we had used all of our dough, They looked quite pretty as they were, as the dough had picked up lots of the shimmering baker's glitter, but we still intended to decorate them! I decided (since my baking cupboard seriously lacks sprinkles!) to make some new edible glitter. I didn't have the time (or an oven!)`to make glitter the same way as before, so I kind of invented a new method which turned out to be a lovely sensory experience in itself!
I tipped some caster sugar into a bowl

I added a small dollop of green food colouring paste
we used our finger tips to rub the colour into the sugar
bingo! Green sugar glitter!
We used the glitter to decorate the doughnuts, then we stuck little paper birds on cocktail sticks on top to show that they were ready to be sold.
The preschooler loved this part and it was actually a great counting exercise for him too. As he pushed each stick into the doughnuts, he counted and when he finished I encouraged him to keep going. he got up to 45 and then announced there were no more numbers! We also talked about giving each doughnut the same number of sticks each and he spent a long time making sure he had shared them all equally. Once the doughnuts were decorated, we moved on to the shop!
We haven't talked about money much. The preschooler knows that we need it to buy things, but we haven't really shown him the numbers on the coins. Today the preschooler decided that the doughnuts were to cost 4p so I thought it would be nice to show the preschooler what 4p actually looks like. We stuck with pennies and the prechooler counted out 4p easily. He loved playing shop keeper!
This was a really lovely, messy, sensory play session and one that was totally unplanned and 100% child led. The preschooler's imagination is really coming on in leaps and bounds and I was so proud of him today as he really allowed me to engage with his ideas. And although my dough went wrong, I do think that the extra oil in the mixture made for a much more sensory experience too!
I'm linking up this post with Jennie's Messy Play for Matilda Mae. Please pop over and see the others posts for more inspiration!