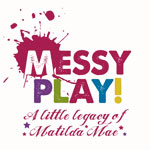 Today's Messy play for Matilda Mae's theme is mark making, something I often include in our messy and sensory play. The preschooler is growing more and more curious about letters, sounds and words, and I know that he is really on the cusp of beginning his reading and writing journey. It's such an exciting time! To help him, I have been:
helping to improve his fine motor skills in preparation for holding a pencil.
surrounding him with books, stories and music- listening to stories, reciting the words and singing songs with and without actions are all great ways to get him thinking about rhythm, vocabulary, words and sounds.
working through the Jolly Phonics starter kit we were sent to review. The songs are excellent and if there is a sound the preschooler isn't sure of, we think of the song and he is soon confident. We are also using the story book a lot more now and both this and the songs have been invaluable with mark making.
encouraging and nurturing his natural curiosity surrounding letters, sounds and shapes. Wherever we are, he is pointing out letters and telling me what sound they make, what words they belong to and so on.
Mark making is the first steps towards writing and often is developed alongside letters and sounds recognition. To learn to write you must learn to read and to learn to read, you need to know letters and their sounds. This is why Jolly Phonics features so highly in our house!
So I try to include options for mark making in all of our play, which is easier than it sounds. Marks can be made in literally anything but if you don't want to get dirty, you can still use other materials. Obviously pens and pencils are great, as are crayons and felt tips. You can use sand, salt, or even dust if you have some lurking on the window sill. Dot to dot puzzles are also great for when children can recognise and order numbers.
Today we used icing for our messy mark making! I mixed icing sugar with water and green food colouring. I then covered a plastic chopping board with tin foil, wrapping it around and under the board to keep it secure. We painted the mixture onto the board with a pastry brush (good for fine motor skills!). Then we set to work!
We practised making straight lines, curved lines and zig-zags. We used our fingers, chopsticks and even a fork to make marks. The preschooler loved making patterns in the green gloopy mixture but he soon started talking about letters.
So we got the Jolly Phonics kit out and started to look through the story book for letters that we recognised. The preschooler had a go at writing these letters.
For some of them, I modelled the letter first and he either wrote over my letter, or next to it. He was able to write some of them independently which was fantastic!
We also used the storybook to sound out and write some words, linked to our ice cream factory play session earlier in the week. The preschooler told me which letters the words began with and their initial sounds. He also pointed out letters within the words too.
I wanted the preschooler to have a go at writing his name too, but he wasn't up for this today. The most important thing for me to remember when it comes to my determined son is not to push him. If he doesn't want to write his name, no amount of persuading him is going to change his mind!
Icing on silver foil was a great material for mark making because it was fluid enough to make actual marks, and it also disappeared nicely in time for the next set of marks. My challenge was to get a photo before it went altogether! And as far as messy goes, it wasn't so bad. Just a board and a chopstick- perfect for cleaner messy play sessions!